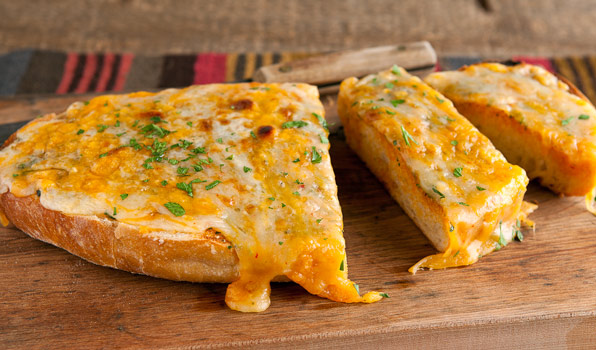 INGREDIENTS
1 French bread loaf, cut in 1/2 horizontally (can be day old)1/3 cup butter, room temperature
2 to 3 garlic cloves, chopped
1 tsp. chopped fresh thyme or dried thyme
1 tsp. paprika
1/4 cup chopped Italian parsley
Salt and freshly ground pepper, to taste
3/4 cup grated cheddar cheese
3/4 cup grated mozzarella
1/4 cup grated Parmesan cheese
3/4 cup grated jalapeno havarti
METHOD
Preheat oven to 400 degrees F. Line baking sheet with parchment paper.
To make garlic butter: Combine butter, garlic, thyme, paprika, Italian parsley, and salt and pepper.
Spread garlic butter on bread. Cover with the grated cheeses. Transfer to prepared baking sheet.
Bake until cheese melts and bread is toasted, about 10 to 15 minutes. To speed up the process, finish under broiler, if desired.