Garlic Butter Sirloin Steak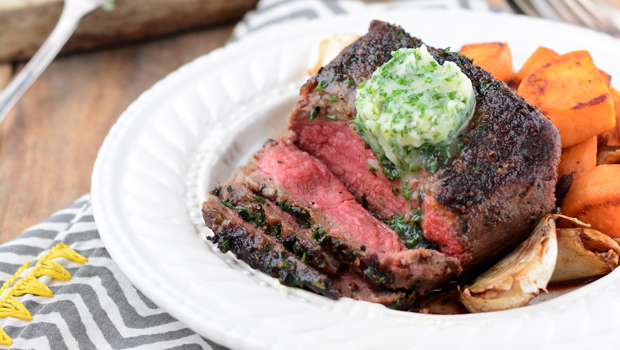 INGREDIENTS:
4 – 8 oz Steaks Top Sirloins, 1 ½" thick
2 garlic cloves
½ tsp Himalayan sea salt
½ tsp coarse ground black pepper
1 tbsp ghee
Herb Butter:
½ cup salted butter, softened
1 tbsp fresh parsley, finely chopped
1 tbsp fresh chives, finely chopped
Sweet Potato and Mushroom Side:
4 large sweet potatoes, peeled and cut into bite sized cubes
6 oz shiitake mushrooms, sliced
12 cloves garlic, skin on, smashed
4 tbsp ghee
PREPARATION:
Prepare the herbed butter an hour before cooking the steaks so that it has time to set in the freezer. Combine butter, parsley and chives in a small bowl and scoop it onto an 8"x 5" piece of parchment paper. Roll it and twist the ends just enough so that the herbed butter is shaped like a small log, about 1 ½" diameter. Place in the freezer to harden.
sirloin_steak1
Bring steaks to room temperature 30 minutes before cooking. Rub both sides with 2 tsp of ghee and season with the garlic paste obtained from grating the garlic, add grined salt and black pepper. Lightly press the seasonings so that it sticks to the meat.
On a preheated outdoor grill, cook the first side for 7 minutes. Flip it to the other side and cook for another 5 minutes for medium rare. Remove from the grill, place it on a plate and brush both sides with the last teaspoon of ghee. Cover with foil and let it rest for 5 minutes.
Meanwhile, prepare the side by melting ghee on a skillet over medium high heat. Add sweet potatoes and sauté for 3 minutes. Once it's halfway cooked, add the shiitake mushrooms and garlic cloves. Sauté everything together until the mushroom shrinks in size and the sweet potatoes can easily be pierced with a fork.
Turn off heat, add half of the herbed butter log and mix so that it slowly melts and combines with the mushrooms and sweet potatoes.
Plate each piece of steak and add a slice of herbed butter on top and serve with sweet potatoes and mushrooms on the side.