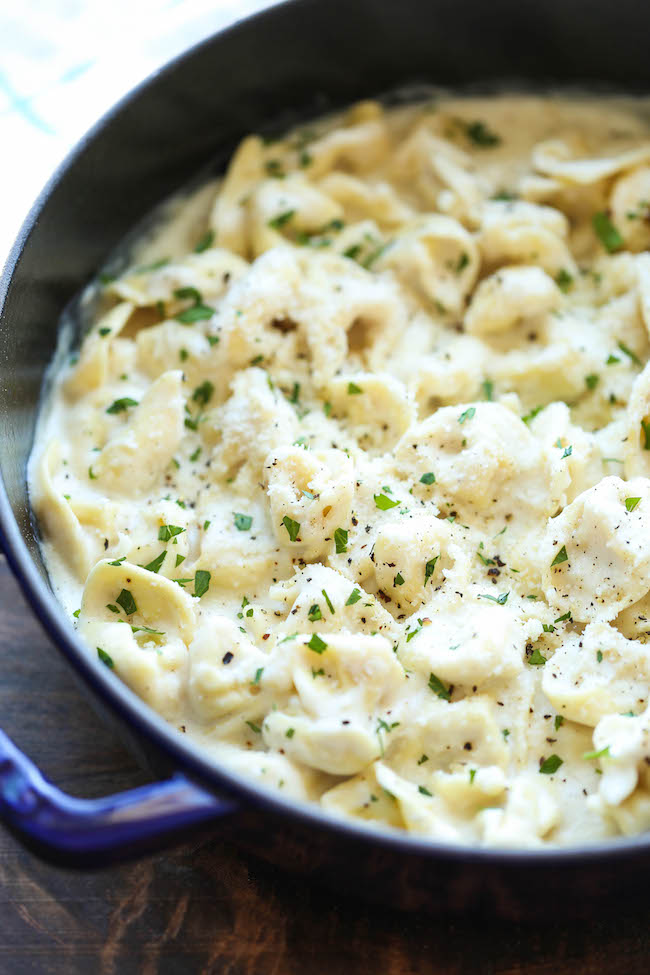 INGREDIENTS
1 (9-ounce) package refrigerated three cheese tortellini
2 tablespoons unsalted butter
3 cloves garlic, minced
1/4 teaspoon crushed red pepper flakes
2 tablespoons all-purpose flour
1 cup milk, or more, as needed
1/2 cup half and half*
2 ounces cream cheese, cubed
1/4 cup freshly grated Parmesan cheese
Kosher salt and freshly ground black pepper, to taste
2 tablespoons chopped fresh parsley leaves
METHOD:
In a large pot of boiling salted water, cook tortellini according to package instructions; drain well.
Melt butter in a saucepan over medium heat. Add garlic and red pepper flakes, and cook, stirring frequently, until fragrant, about 1 minute. Whisk in flour until lightly browned, about 1 minute.
Gradually whisk in milk and half and half, and cook, whisking constantly, until slightly thickened, about 2-3 minutes.
Stir in cheeses until melted, about 1-2 minutes. If the mixture is too thick, add more milk as needed; season with salt and pepper, to taste. Stir in tortellini and gently toss to combine.
Serve immediately, garnished with parsley, if desired.